BabySafe evaluates child safety products as they enter the market. The criteria we use to determine which products we will install and recommend centers around two objectives.
Which products will protect your child the best?
Which products will be easy to use by the rest of the family?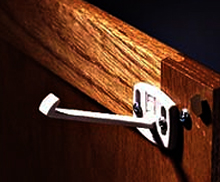 Cabinet Locking Systems
Cabinet Locks quickly locks side-by-side cabinet doors with adjacent pulls or knobs. Slides on handles, squeeze inside of lock to remove. Goes up to six inches wide.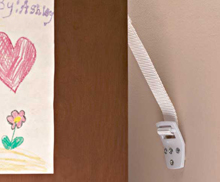 Furniture Straps
Kids love to climb furniture, and that can be very dangerous! These easy-to-install brackets anchor furniture pieces right to the wall, so kids can't accidentally tip them over. Designed for dressers, wall units — anything your little explorer might try to climb.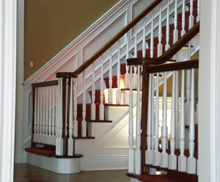 Stairway Gates
Protect your child by installing a stairway gate and prevent accidents.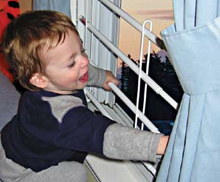 Window Guards
Children are mesmerized by the world outside, and it's that curiosity that makes your unprotected windows a real danger. It only takes a split second for an accident to happen. Our window guards allow you to let fresh air and nature in while keeping your children safe.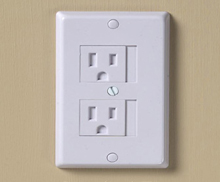 Outlet Covers
The Safe Plate is an attractive and convenient way to help protect children from dangerous electrical outlets. Spring loaded door stays shut when not in use, and slides over when in use. Comes with insulated backing for energy efficiency.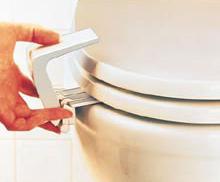 Toilet Lid Locks
Protects children from accidents, and keeps plumbing safe. There'll be no more toys to scoop out when you can keep curious hands (and toys) from getting into the wrong place. Quick and easy to open. The one hand release operation is easy for an adult hand, but difficult for a child.