You will have peace of mind knowing a professional baby proofer inspected your home.

It is difficult for us to consider our homes as "danger zones". Since our home is where we are generally most comfortable, often-potential hazards are overlooked. Our staff is trained to identify these hazards for you and offer recommendations for solutions.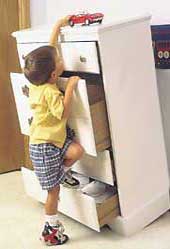 Our objective is to keep your home comfortable and make it safe for your children
You will have confidence knowing that only the best products were installed.
It is our job to evaluate available safety products. We take this job very seriously and we strive to install only the best products available. Our goal is to keep your children safe and secure while ensuring that the products are easy to use for all other members of your household.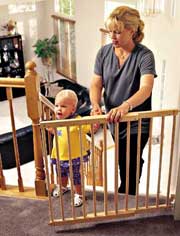 All Star Baby Safety customizes work for special problem areas such as stair gates, plexiglas for stair banisters, balcony railings and decks. We have not found an opening where we could not install a gate in yet!
Often parents are concerned that there are areas in their home that cannot be made safe because of the design of some components. For example "I have iron railings, how can I mount a gate to that? Or "I have a spiral staircase in the center of a room, how can I protect my child?"
There are many good safety products on the market, however there are many situations where a solution cannot be found "right out of the box" . All Star Baby Safety has developed custom solutions for these problems and to date we have not encountered an area we could not install a gate or childproof.
You will not waste money on products that don't work.
Safety products are developed for the masses. It is virtually impossible to manufacture a gate that would work universally for any application. We hear about failed attempts at making safety products work all the time. What's worse is that often times money is lost with these attempts. Products damaged during installation that can no longer be returned. Damage to walls and stairway railings that cost money to repair while still be left with the problem of a home hazard.
All Star has the staff, skills and equipment to solve these problems for you.
You will not waste your valuable time trying to install various devices incorrectly.
Safety products can only provide safety if installed correctly. While some items are easy to install, several require tools and knowledge that parents may not have or be comfortable with.
Our skilled installers have been doing this for over 12 years! We can help.
You will not be risking your baby's safety by waiting another day until you find the time to do the work yourself.
Each of us face the challenge of getting everything we want and need to do done each day. There never seems to be enough time for everything. Parents generally do not worry too much about their babies getting into things they shouldn't until they start crawling. And they start crawling before you know it, don't they.
All Star Baby Safety is available to take care of this for you, safely and promptly!!